Personal and Social Identity of Women in Leadership
Conflict Between Personal and Professional Identity of Women
Identity is the self-assessment of the individual's character traits, motives, and different social roles, including the roles of an employee, family member, and citizen. Identity is a dynamic structure which develops during the person's lifetime. The individual's experience can assimilate or contribute to the development of identity.
Types of Identity: Personal and Social
According to the modern psychological view, there are two types of identity, personal and social. The first type is defined as a set of features that allow a person to differentiate themselves from other people. In other words, a set of characteristics which make a person an individual are understood under the concept of personal identity. The social identity is interpreted in terms of group membership, inclusion into any social category (Levterova). A common point for the majority of modern psychological researches is the juxtaposition of personal and social identity. There is a contradiction between those two types of individual's identity. The achievement of balance between these substructures indicates a successful development of the personality, while unsolved contradictions and conflicts contribute to the emergence of an identity crisis. Work-family conflicts cause dissatisfaction with family life and personal identity crisis, while family-work conflicts lead to discontent with the professional sphere (Levterova).
Your Best Paper Is Just One Click Away!
The process of identity formation continues throughout the whole life, being the factor of psychological well-being, satisfaction with life, and personal growth in today's rapidly changing world. Personal identity goes through the transformations according to the age of a person and the changes in social and gender roles, thus helping find the balance in work-family relationship. The transformation of personal identity under the influence of social changes shows that identity can be the factor of adaptation to the new conditions and professional development (Amstad, Meier, Fasel, Elfering, & Semmer).
This research paper focuses on the experience of identity which is actualized in both personal and professional spheres of human life. Understanding the origin of a conflict between personal and professional identity of working women and finding the necessary balance between work and family are urgent tasks due to the frequent cases of identity crisis of a modern woman. The problem of identity occupies a special place in today's world. The most relevant issue is the study of personal and professional identity of women in the Arab society on the example of the United Arab Emirates, as women there are required to keep a strict balance between two areas of their life.
Working Women in the UAE
Hundreds of years ago, most Arab women were not educated and did not have any profession. Their only role was being a good wife and a caring mother. They were taking care of their husbands and children, as well as keeping the household. They had no idea about any other kind of life. However, the position of women in the Muslim society has changed dramatically over the recent years. Nowadays, the limits of female roles have expanded. First of all, a Muslim woman is not obliged to act only as a housewife — she can successfully perform the social and professional roles, get education, and work alongside with men. In some cities in the UAE, women still study in special female universities, located far from male high schools. However, in major cities, the situation is gradually changing. For example, in Dubai the majority of women work side by side with men (Al-Jenaibi).
Nowadays, the role of a Muslim woman is vast and not only limited to her home, family, and household. If a woman wishes, she can concentrate on her own business or participate in the life of society. She can work for the benefit of the Muslim community Ummah in such fields as medicine, education, modeling and tailoring, cooking, and other. Modern women in the Islamic world learn new computer technologies, are engaged in political life, teaching, or journalism (Kemp, Madsen & Davis). Education and work are available and allowed for the Muslim women. However, whatever a woman does outside her home, she can not afford herself to immerse into her job to the full extent and to escape from the thoughts of her family, children, and relatives, like men can. That is why a woman should divide her time more evenly between work and family. For finding a wise balance between those two spheres of her life, personal and professional, she should combine her working duties with the ability to devote more time to her family.
A working Muslim woman is not a surprise nowadays. The progress, which has occurred in the UAE in recent years, is evident. These changes have had a favorable impact on the modern Arab society and the state as a whole. In addition, they have helped women gain more rights. The number of working women in the United Arab Emirates has increased from 15% in 2000 to 41% in 2007, and to 47 % in 2016. At the same time, there is no deficit of vacant specialties for women due to the growth of the number of projects connected with the construction of tourism infrastructure (Al-Jenaibi). Most often, women specializing in the service sector, medicine, or tourist business, are in demand. The following graph shows the percentage of working women in Middle East and North Africa countries in 2016.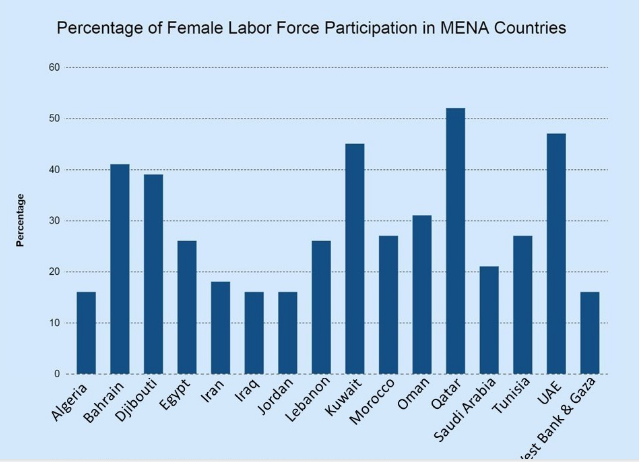 Figure 1. Percentage of female labor force participation in MENA countries.
Until the creation of the federal state, the majority of women had limited access to education and were not allowed to participate in the political or economic life of the country. However, during the reign of Sheikh Zayed bin Sultan Al Nahyan, the emergency measures for promotion of women's education have been undertaken. Since then, the UAE women have begun to participate in political and economic life of the country (Al-Jenaibi). By implementing a special policy and other measures of encouragement, the government supports women's active participation in the political and private sectors of life. The government strongly believes in the importance of a good education for the female part of population. Of course, national and cultural differences, as well as the traditional features of a woman in an Arab country, still exist. However, in the United Arab Emirates, women already enjoy almost the same rights as in the developed European countries.
Every year, their achievements in various fields become more tangible. Consequently, in 1993 the first women officers appeared in the police and army of the United Arab Emirates, as well as the first woman-pilot. Women in the UAE have started to occupy the high positions in parliament. The proportion of women reaches 22.5% of the total composition of the Federal National Council of the country (Kemp, Madsen & Davis). The first place in the ranking of the most influential Arab women is taken by the representative of the United Arab Emirates Sheikha Lubna bint Khalid bin Sultan Al Qasimi, who executes the duties of the Minister of Foreign Trade of the country. She also successfully performed the duties of the Minister of State for International Cooperation and Minister of Economic and Planning of the United Arab Emirates. She is on the board of directors of Dubai Chamber of Commerce and Industry (Al-Jenaibi).
As a rule, Muslim women work in case their family experiences financial difficulties. For example, when the husband can not support his family, or when the girl still lives with her parents, or in other cases, when, for example, the husband earns enough money, but the woman wants to implement her knowledge and capabilities for the benefit of the society. There are many examples in which the Muslim wives are the most important business partners for their husbands. Thus, the number of working women in the country continues to increase.
WORD COUNT POLICY:
Save 10% On Each Page
Ordering a paper from our company you save extra 10% on every page since we provide 300 words/page instead of 275 words/page.
Despite the fact that most of the women prefer to work in a public sector, their interest in working in a private sector is increasing because of the implementation of specific support strategies by federal and local authorities (Kemp, Madsen & Davis). At the same time, of course, one should not forget that the main place of Muslim women is in the family. It is a very important factor in the development of society as a whole, because the family is the basis of the society. That is why it is extremely important for women to keep the necessary balance between work and family, between their personal and professional identities.
Relation between Personal and Professional Identity of Women
For the investigation of relation between personal and social identity substructures, the method called "Who am I?" is often used in psychology. The respondents are asked to write the answer to the question of who they are. The experience of psychological research after using this methodology has shown that, as a rule, people start by using the concepts that characterize their professional identity, for example, claiming that they are "a businessman/businesswoman, a nurse, a scientist, a teacher", and so on. Simultaneously, the definitions relating to the personal identity are as follows, "I am smart, reliable, responsible, beautiful, romantic, emotional". Some people combine their personal and professional identity, for instance, "a successful entrepreneur and a loyal friend, a responsible businesswoman and a caring mother". This version of the responses can be interpreted as the consistency and coherence of personal and professional identities.
Personal identity can be a leading and determining factor of the professional identity, as stable, strong, and clear personal identity related to family can maintain a professional identity and support career development. In other words, the harmony of personal identity helps to achieve success in the professional sphere. In the modern world, not only personal, but also professional identity is very important for a woman, as it allows her to define her place in the social world and to develop the system of values and beliefs that correspond to the requirements of modern social conditions in the dynamic world. Professional identity is one of the concepts which express a conceptual view of a person about their place in the professional group or community (Levterova).
One kind of the internal conflicts of personality, which affects the social life of the individual, is the conflict that may arise between the personality and their social role — that is, a conflict between personal and professional identity. Individual traits of any person are manifested in a distinctive role behavior, which is seen as a function of two major variables: the social role and the "I" in social psychology. Any role exists separately from the individual performing it, but the interests of the individual make certain changes in the role behavior. Certainly, a person affects their profession, and the profession has an influence on the personality. The problem of correlation of mental traits of the individual and their professional conduct is complex. It points at the possibility of self-conflict between personal and professional identity. On the one hand, there are demands and expectations of the society about a person's role behavior, and on the other hand, there is the personal attitude to the role occupied (Elmuti).
Gender Aspect of the Identity of Female Leaders
Gender, being the humans' basic characteristic, directs their behavior, provides a mechanism for the implementation of personal identity, and causes many aspects of individual behavior. Gender identity is one of the dominant factors which set a certain path of self-realization of the person in their personal and professional spheres. Professional experience is one of the most important components of life, with the help of which a human develops as a personality. It gives material and psychological means for existence (Amstad). In theory, men and women are free to choose almost any kind of professional activity, as the boundaries between traditionally male and female professions are becoming more blurred. However, in practice and in people's consciousness, quite stable representation of the division of professional activities on the basis of gender still exists. It is based on gender differentiated interests, especially on the connection of professional roles with other life roles. Unlike men, women also perform the roles of a housewife and a mother, which affects their professional identity.
One kind of self-conflicts on the basis of the identity is the gender role conflict. It is based on the contradictory perceptions of gender values, attitudes, and roles, leading to a clash of interests and goals. Gender conflict is caused by the contradiction between the normative notions of personality traits and behavior of men and women, as well as the inability or unwillingness of the individual to meet these requirements. Any gender conflict is based on the phenomenon of gender role differentiation and hierarchical status of men and women in the society (Amstad). For women, gender role conflict is manifested in ambivalent identity: they are fighting for the liberation of the previously existing gender roles, the meanings of which are inefficient in accordance with the accepted stereotypes in society. Internal conflict motivates a person to seek the ways of its resolution, namely, the attainment of a new and probably false masculine identity. This is the result of social and psychological pressure on a woman personality exerted by social values. Unfortunately, not all women manage to resist this peculiar form of moral pressure.
The results of the interview show that more women prefer to work with the female managers as they have more flexible and democratic style of leadership. Women feel more comfortable with other women and understand each other better. They are friendlier and more resistant to stress than men. Sometimes, women are stricter, because they care for everyone and everything, and they want everything to be perfect and faultless. As a rule, women in leadership are rather powerful, but less aggressive and more open than men — they have clearer position regarding interaction with the staff. Women leaders who have achieved success have high self-esteem and clear understanding of their goals. All of the interviewed female managers think that age does not affect their position in a negative way. Moreover, it means that a woman has more experience and can teach the employees a lot of new things. What is also important is that they hold liberal views on women's role in society, realize their potential, and do not feel the constraints imposed by their gender. Such women have various personal characteristics — they combine such female traits as warmth and openness with male features, such as prudence, assertiveness, and independence. Despite the presence of female role models, they tend to achieve professional success (Elmuti, Jia & Davis).
We are available 24/7 to minimize your study stress!
As it has been indicated, personal identity and family support are important factors in the formation of professional identity for women. However, sometimes women do not have any help from their relatives or husbands. Thus, they become the sole breadwinners of their families. Amalia Sa'ar uses the example of a woman such as In'am to show that a woman that understands that she has not got any person to rely on or trust in this life tries to accumulate all the power to feed her children. In'am is the example of a woman who is very strong and powerful. By her behavior, she breaks the gender stereotypes that power must be definitely related to masculinity (Sa'ar). It is the paradox of modern society: on one hand, a woman who earns money and becomes more powerful loses the support of her family; on the other hand, a woman who is too weak does not feel familial devotion either. Amalia Sa'ar argues that being a woman in modern society, especially in Arab society, is not so easy. Modern women are different from those women who lived less than a century ago and were modest, uneducated, and completely submissive. Today, a woman is at the crossroads — she cannot be too weak, otherwise she will suffer from degradation and will be socially unrealized, but at the same time, a woman who is too strong is lonely, discouraged, and does not receive any support. This argument proves how important it is for a modern woman to maintain balance in the difficult modern social circumstances.
The Balance between Work and Family Life
Life has to be harmonious — it must combine work, personal life, time for health, friends, self-development, and hobbies in the correct proportions. However, such ideal combination rarely becomes the reality. Very often, a woman has to make a difficult choice between two very important aspects of her life: work and personal space. The balance between work and family is an art, and not every woman is able to comprehend it (Levterova). Successful work should not disrupt family relations and vice versa. When it comes to the working life of women who make career, especially in the Muslim countries, there is a question about the balance between personal and professional life. The role of a woman out of work is more complex than that of a man. Many women who return from work have a lot of duties at home, such as going to the market, cooking dinner, cleaning up the house, doing the lessons with the child, and much more. Every day they try on so many different roles: a mother, a wife, a housewife, an organizer of family life, and so on. Even at full employment, being a chief or head of the company, they are unable to free themselves from all those roles. And the personal identity is a very important factor for saving harmony and balance between work and family.
Career and personal life are always a big test for women, because they are opposing forces. One force comes from a woman herself, as a result of her personal identity, because an endless devotion is needed for a success. And very often it turns out that to achieve success, a woman focuses more on one side of her life, and other areas begin to fall out of her attention. If a woman concentrates on her job more than on her family, gradually, she starts to lose her family identity, letting her professional role prevail. This is the beginning of an identity crisis, as for women, family is an extremely important component of both personal and professional development (Levterova).
Many women become successful thanks to their family relationships and under the influence of family experience. An interview with the working women in the UAE, with both employees and managers, was held in order to investigate how their personal identity correlates with the professional one, and how they manage to keep the balance between them. It shows that the family role for every Arab woman is very important. For example, one of the interviewed female managers has indicated that her family role and responsibilities are critical components needed to define herself. She has admitted that she is a well-organized person even at home, and tries as much as she can to take her family life as seriously as her career. She spends most of her time with family, as she believes that it is a good therapy to get rid of the stress. This respondent considers her home a place where a woman can find happiness in life — home and family motivate women to work hard to have a successful life.
The interviews with women employees and managers have shown that most of them try to find a balance between work and private life. Most women, both employees and managers, try to differentiate, to set boundaries between their professional role and the role of a wife or a mother. The first female manager finds this balance by managing her time. She never keeps her work for the next day or takes it to her home — she keeps her phone away and answers only those calls which are related to her personal life. She never shows her kids and husband that she is tired. That woman tries to spend as much time with her family as possible. The second and third female managers keep the boundaries between home life and work. They do not speak about their home problems at work and do not take their work problems to home. Indeed, the best approach to balance work and family is to differentiate and set boundaries between those two spheres of life. In spite of being responsible managers or employees, women should focus on things that are important in their life apart from work (Levterova). However, sometimes it is difficult to set the boundaries between home and work. For example, the second interviewed woman employee has admitted that at home she continues to perform her duties. Many people transfer their office conflicts and stress to their homes, which leads not only to family quarrels, but also to the crisis of personal identity.
Conclusion
For modern women, both personal and professional spheres are essential, but it is very important not to lose family identity in pursuit of professional success. Personal identity plays a significant role in the process of saving the balance between work and family, and seriously affects the professional status of a woman. The ideas about masculinity and femininity vary greatly in different cultures and put a serious mark on the rules of gender behavior and the position of women in the structure of social life. The need to combine different roles is difficult for women; however, many female leaders manage to cope with this problem and find the necessary balance between household and job. Women are no less interested in realizing their leadership potential and improving their educational level than men, even in such Muslim country as the UAE. At the same time, the female natural biological role makes the promotion of a woman as a leader more challenging than that of a man. To prevent the conflict between her personal and professional identity, every working woman has to combine professional, social, marital, and parenting statuses and to set the boundaries between them.