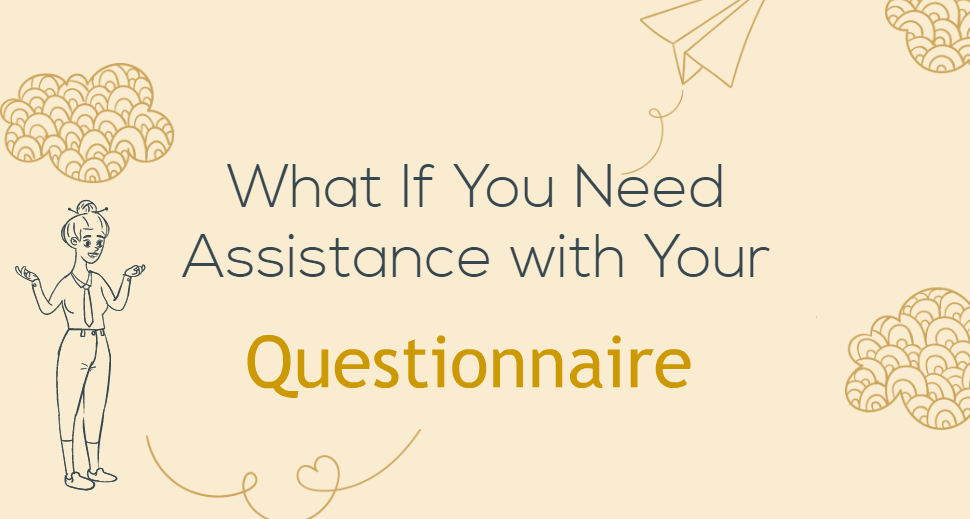 Writing an Effective Questionnaire
Writing a questionnaire relates to the process of composing a set of questions and further distributing it among a group of respondents. The core purpose of conducting a questionnaire is to generate statistics relating to a certain topic.
"The important thing is not to stop questioning. Curiosity has its own reason for existing." – quote by Albert Einstein.
When formulating a title, make sure it is clear and sufficiently detailed for the target respondents to understand what they will be questioned about. Moreover, the title should be catchy in order to attract attention of the audience because, as a rule, many people are hesitant about what they are asked about in questionnaires. The title should be preferably formulated in such a way that it should make the respondents enthusiastic and interested in answering the questions.
Buy a Questionnaire Paper In Just One Click
Introduction to the questionnaire
When writing a questionnaire, it is vital to start with an introductory paragraph. It would be really strange if you just gave a list of discussion questions to your respondents without any explanation or background, or indication what their purpose is.
As such, make sure that the questionnaire has the following constituent parts:
Explanation what the questionnaire deals with, what its purpose is, what issues/ problems it helps to address, etc.
Notification that the information and responses provided will be kept in confidentiality;
Information about organizational and technical parts of the questionnaire (e.g. how many questions are planned and how much time the questionnaire is about to take on average;
A set of questions in order of importance
When you make a questionnaire, keep in mind that the questions should be formulated in a simple and clear way. They should be specific, direct, and asked straight to the point so that the respondent does not have any other assumptions regarding what the question is about.
You definitely need our writing help if:
You have problems with academic writing and your marks are not good
You need to have more time for friends, family, part time job or hobbies
You are unable to cope with so many assignments
You cannot cope with the assignment due to the hectic schedule
Among the most popular types of questions used in questionnaires are the following:
Agree/ disagree or yes/ no questions
This question type is also called dichotomous. When you have such questions, your task is to confirm or refute something or agree or disagree with something.
Survey Example:
Do you like the series provided by HBO? – Yes / No
Effective time-management is an inseparable part of my daily life. – Agree / Disagree
These questions might also be used as screening questions to help the interviewer find out the belonging of a person to a specific group or category. It also helps to find out which people can be helpful in conducting a survey.
Open-ended questions
These questions allow the respondents to provide answers in their own words and write what they feel/ think about some aspect. It gives more freedom and does not restrict the respondent to some specific options. These questions help to investigate qualitative aspects of a specific problem. The main drawback of open-ended questions is that they take up much time and cannot be used in abundance. As such, they do not belong to good survey questions.
Benefit from Our Service: Save 10%
Ordering a paper from our company you save extra 10% on every page
since we provide 300 words/page instead of 275 words/page.
Examples of open-ended questions that can be included in a survey questionnaire:
Why have you chosen our services?
Write down your suggestions of how our product may be improved.
Multiple choice questions
These questions predetermine three-five options (answers) that you are supposed to choose judging from (based on) your experience. As a rule, the options provided exclude one another so that it can be easy to choose the most suitable answer.
The examples of the survey questions are as follows:
Where have you got information about our products?
Television;
Radio;
Social media;
Periodicals;
Word of mouth.
STEPS FOR BUYING QUESTIONNAIRE (PROCESS)
Rank-order scale questions
When giving answers to these questions, a respondent is required to choose or rank items from the list in a specific order from the provided set of options. For example, a product or a service may be ranked in a specific order according to the specified criterion or characteristic.
An example of this question type is the following:
Please rank the following characteristics in the order of importance when choosing a job, where 1 is the least important and 5 is the most important:
Salary;
Flexible working hours;
Career prospects;
Opportunities for self-development;
Friendly colleagues.
Rating scale questions
With these questions, a respondent can evaluate a specific case according to the given dimension. In particular, the interviewer may provide a scale with an equal number of positive and negative options, such as "strongly disagree" or "strongly agree."
Survey Example:
• The X Company should improve provision of its products and services to customers with disabilities:
Strongly Agree / Agree / Undecided / Disagree / Strongly Disagree
Visual analog scale question
The visual analog scale gives one an opportunity to show the sample survey questions in a manner that is more visually appealing. For example, among the options to provide ratings of specific services, the respondents might have to use slides or the option of sharing feedbacks to the social media (such as giving smileys or stars).
Conclusion
It is not enough just to be well-versed in writing good survey questions. It is equally important to be able to finish the questionnaire properly and leave respondents with positive impressions. Therefore, make sure you express gratitude to your respondents for participation.
Characteristics of Good Survey Questions
When working on the questions formulation, keep in mind that you know the difference between survey and questionnaire. They have different purpose and it is best reflected in the kinds of questions provided. You can have a look at a sample survey questionnaire online in order to get basic understanding how to work on the questions, especially if this is the first time you have composed a questionnaire or survey. If you find the assignment challenging, you would rather best buy questionnaire answers from one of the most reputable writing services Order-Essays.com. Our specialists will be eager to solve your assignment if you find lost between survey vs questionnaire purpose and specifics.
Tips to Make Your Questions Effective:
Be fair
When devising questions, do not boast too much about the products or services you offer. As such, be careful with exaggerated adjectives for the description of your services or products. Being boastful about your business or the sphere of activity will not provide a favorable impression on the customers.
Prefer simple formulation of the questions to more high-brow or complex one
The main difference between questionnaire vs survey is that the former is less complicated for understanding than the letter. It is more widespread in surveys to use overly formal language and specific terms. When working on a questionnaire, make sure you do not confuse your respondent and that do not take much time for their understanding.
Take advantage of our exciting features!
Along with the high-quality writing, we offer the following benefits.
FREE Options
Title page
Plagiarism screenshot
Reference page
Formatting
Outline
Revision on demand
E-mail delivery
Paid Options
Premium/Supreme quality
Preferred writer and UK writer
1-Page summary of your paper
Extended revision
Tables, charts, diagrams
VIP services
VIP account
Do not be overly scrupulous
Do not turn the questionnaire into a detective investigation. Do not delve into the smallest details but try to focus respondents' attention on some general notions that are crucial for the overall understanding of the subject. Besides, it may seem strange and suspicious if you opt for asking too detailed questions.
Avoid "what if" questions
Assumptive questions asking respondents about unrealistic events or cases just confuse them and do not provide credible information. Therefore, when formulating questions make sure to use realistic conditions.
Prefer questions with "how"
If you ask questions beginning with, "Did you like…?" or "Did you find…?" a respondent may be tempted to provide a short yes or no answer. However, when you ask, "How did you like…?" or "How did you find…?" you will most probably get the desired answer.
Do not ask more than one question at once
Do not include 2-3 separate questions in one question assignment. Such an approach to formulation of a questionnaire will just confuse your respondents. It is better to split the whole set of questions into blocks and provide all those specific questions in the blocks.
All in all, double-check whether the questionnaire is free from grammar, punctuation, and spelling mistakes. Also make sure that the questions are formulated in a simple manner. If you use some terms or specific language, make sure it will be known to your respondents.